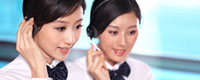 Tel: +86 20 84664739
Fax: +86 20 84664739
Mobile: +86 137 9814 8896
E-mail: admin@olatruss.com
E-mail: coral@olatruss.com
Add: 2A026 Zhiye Building, No.1165-1185 West Ring Road ,Shijiao Street, Panyu District, Guangzhou 511490 China
Skype: coral_law




The advantage of Aluminum truss
The advantage of Aluminum truss

1. Light weight : aluminum truss is half weight than iron or steel one, save cost and labor for the build and transport.


2. Corrosion resistance and durability: all the aluminum truss use 6061T6 or 6082 T6 aluminum alloy as material,
it has great corrosion resistance, could use more than 10 years.


3. Great load: Frankly speaking, the aluminum truss could load more than 600kg , meet all events, festival, concert,
to hang line array, lighting, led display etc.